Zucchini is a great staple for baking- it adds moisture, richness, and most of all- it sneaks in a vegetable which is always a good thing! I top these Zucchini Brownies with a bar of rough chopped semi sweet chocolate and they are delicious in school lunches, for parties, or just to keep on your counter to snack on. You will love these rich and decadent delights!
We are big fans of zucchini anything here at Laughing Spatula– Zucchini Noodles, Savory Bread, Chocolate Bread,  Lasagna, Lemon Bread…It adds a delicious moist texture to baked goods and it is delicious as a carb stand-in in savory dishes.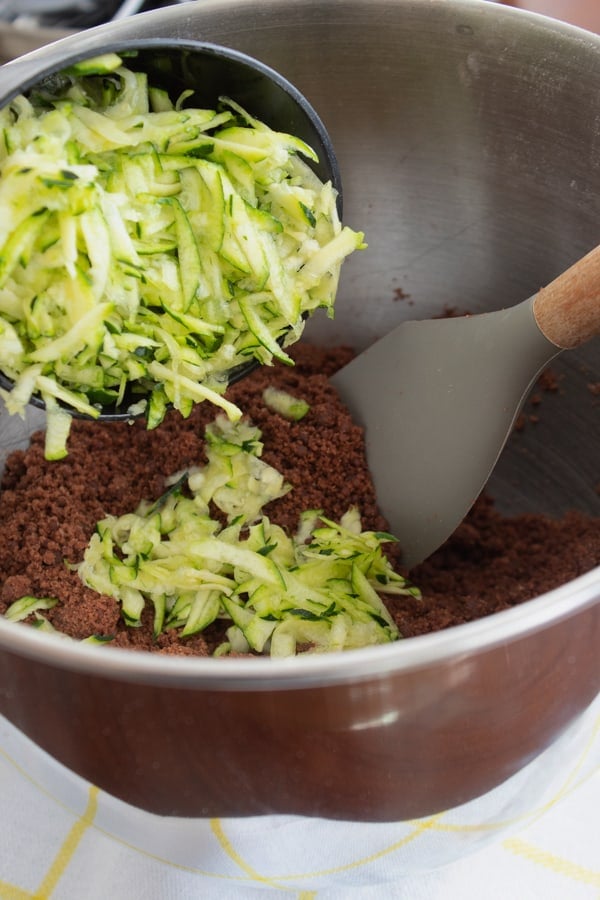 To start this recipe, we'll make a 'dry' batter.
This is a dry, crumbly batter to start (and self admittedly it won't look 'right' , but it is!). A stand mixer or handheld mixer works best. Once crumbly- add in zucchini. The shredded zucchini is what adds most of the moisture to this recipe, making it so delicious.  I will admit- this is not a traditional brownie recipe- you won't have batter you want to lick off the spatula, but once baked, it creates almost a flourless chocolate cake texture. To shred the zucchini, I used a box grater on the medium grating side. You could use a fine grater- but it will take forever and honestly, won't make a big difference. Fold it in with a spatula and let it sit for about 10 minutes, then give it another stir. Like magic, the zucchini will have released its moisture and created what looks more like 'batter'. 
Next step- add in chocolate chips to the batter. Fold them in with a spatula. After that, it's smooth sailing! Spread into a 9×13 inch pan coated in parchment paper sprayed with cooking spray, and bake for about 30-35 minutes or until a toothpick is removed with crumbs only (there should be no batter on the toothpick once they're done).
While the brownies are baking, I like to cut up a bar of dark chocolate into rough, rustic chunks.
Once the brownies are done but still warm, I scatter the dark chocolate all over the top. I like to serve when the chocolate is warm and gooey, but it's also delicious once its hardened. If you want to add chocolate ganache to the top it would be extra decadent- I'll add instructions on how to do that at the bottom of this post!
Questions and Answers about these Brownies!
Why add zucchini to brownies? 

The zucchini adds moisture and sneaks in a vegetable. I don't make the rules, I just try to cook delicious things. 

Do I have to use parchment paper?

The parchment paper helps the brownies come out of the pan easier, allowing you to cut more even squares as the zucchini is quite moist, and may stick directly to the pan. I highly recommend using parchment paper with this recipe.

My batter looks crumbly. Why is that?

It should! But once you add in the zucchini, if it still seems dry, allow it to sit for another 5 minutes and then stir again. Chances are, it won't be crumbly anymore.

Do I need to drain the zucchini? 

No! Don't drain the zucchini- it's full of moisture and is what makes this recipe happen. 🙂

How long do they keep for?

About 3 days. I recommend keeping them in the refrigerator to keep them fresh.

What else can I add to these?

Try different extracts, topping with white chocolate drizzle, butterscotch chips, or even adding peanuts, almonds, or cashews. Even toasted coconut would be delicious! Top with ice cream for a really delicious dessert!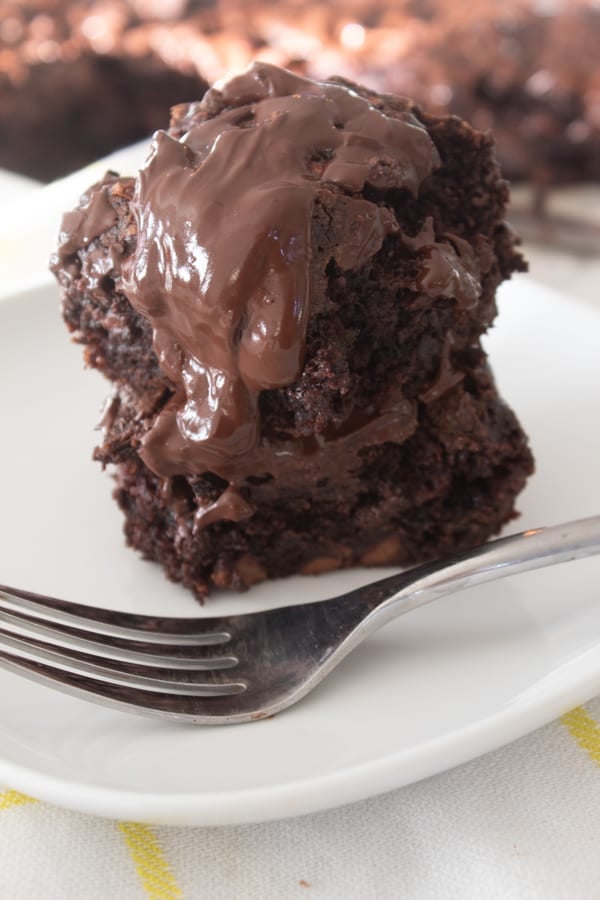 Looking for other dessert recipes? Here's some more of our faves!
Cheers to sneaking vegetables into delicious desserts! – Kathi and Rachel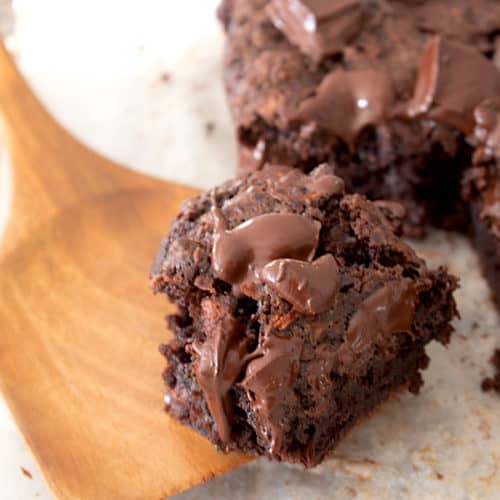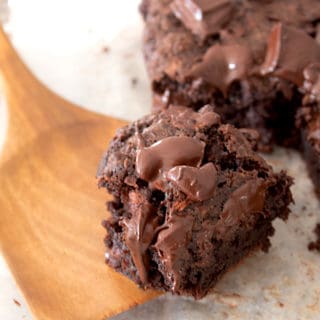 Zucchini Brownie
A delicious, decadent brownie with zucchini to make it moist and semi healthy!
Print
Pin
Rate
Ingredients
1/2

cup

oil

(olive or vegetable)

1.5

cups

white granulated sugar

2

tbsp

vanilla extract

3/4

cup

unsweetened cocoa powder

2

cups

all purpose flour

1.5

tsp

baking soda

1.5

tsp

salt

3

cups

grated zucchini

(not strained to leave moisture in)

1

cup

semisweet chocolate chips

.5

cup

chocolate bar chunked up

(optional for topping, dark chocolate is preferred)
Instructions
Preheat oven to 350 degrees farenheit. Cover a 9x13 inch pan with butter, and lay parchment paper in 'T' shape covering entirety of pan (this will help remove the brownies once cooked). Spray parchment with nonstick spray.

In a large standmixer or bowl with handheld mixer, combine oil, sugar and vanilla. Mix on low just to combine.

Add flour, cocoa powder, baking soda and salt. Stir to combine, until crumb like texture is formed. Be cautious not to overmix.

Add zucchini to mixing bowl, folding in by hand. Allow to rest for 10 minutes. Once 10 minutes is up, stir with handmixer on low for 30 seconds. Batter should become more moist. If it still seems dry, allow batter to rest for another 5 minutes and stir again. Fold in chocolate chunks by hand.

Spread brownie mixture into pan and bake for 30-35 minutes, or until a toothpick inserted is removed without batter and only crumbs.

While brownies are cooling, spread chocolate bar on top.
Nutrition
Calories:
403
kcal
|
Carbohydrates:
58
g
|
Protein:
5
g
|
Fat:
19
g
|
Saturated Fat:
6
g
|
Cholesterol:
1
mg
|
Sodium:
435
mg
|
Potassium:
295
mg
|
Fiber:
4
g
|
Sugar:
35
g
|
Vitamin A:
70
IU
|
Vitamin C:
6
mg
|
Calcium:
26
mg
|
Iron:
3
mg