Start 2019 off to a healthy start with this ultimate dinner guide!
We're eager to get 2019 into full swing, and just like everybody else, we're on the hunt for healthy, easy, and delicious dinner recipes! Gone are the days of starving and craving junk food on a diet- you can eat HAPPY and HEALTHY dinners with this Ultimate 2019 Healthy Dinner Recipe Guide! 
Turkey Chili with Sweet Potatoes This easy recipe combines ground turkey, veggies, sweet potatoes, and a hint of cinnamon. Yes- Cinnamon!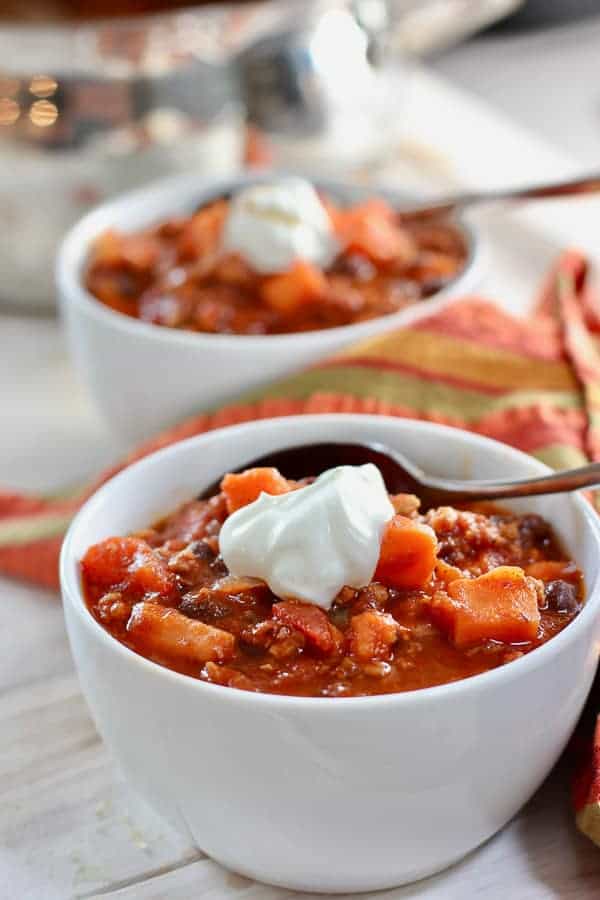 2. Skinny Tomato Soup This soup puts the 'health' in 'healthy'! 29 calories per serving, whole ingredients, and it comes together in a pinch. Give this one a go on a night where you want to cook, but don't want to cook too much.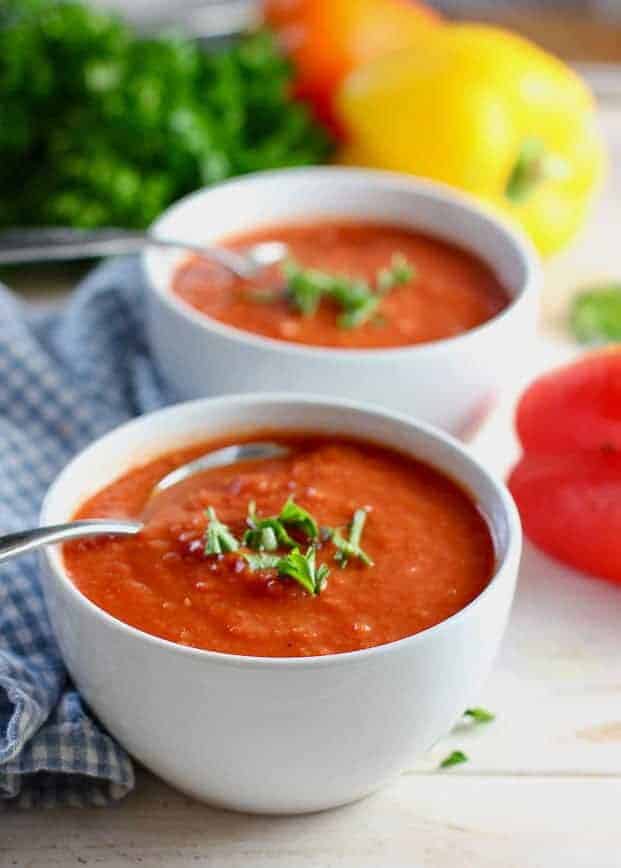 3.  Honey Glazed Sheet Pan Dinner This is one for the books- full of protein, healthy fats, and chock full of veggies, your options are aplenty for flavor! Simple enough for a weeknight, but impressive enough for company, the is one of of our personal favorites.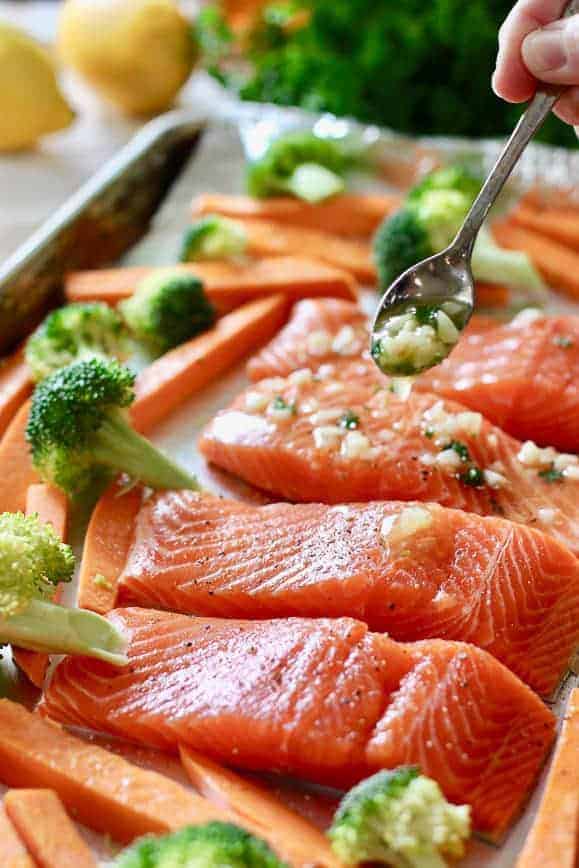 4. 20 Minute White Chicken Chili Anything that has this much flavor and takes only 20 minutes to make is A-okay in our book. A jar of salsa verde gives this a kick of flavor.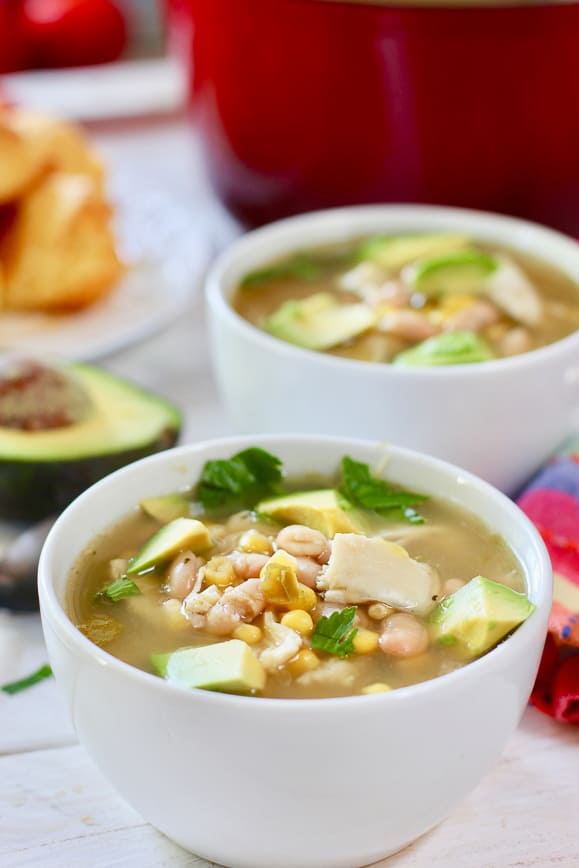 5. Loaded BLT Lettuce Wraps with Homemade Yogurt Herb Dressing A fun take on leftover chicken, this one is perfect for lunch or dinner. Not a fan of yogurt herb dressing? Toss it in some balsamic and olive oil.
6. Chili Lime Chicken Burgers with Avocado Salsa One of our most popular recipes on Instagram, these babies pack a punch and the avocado salsa makes it a perfect bunless burger. Squeeze some lime on top and enjoy!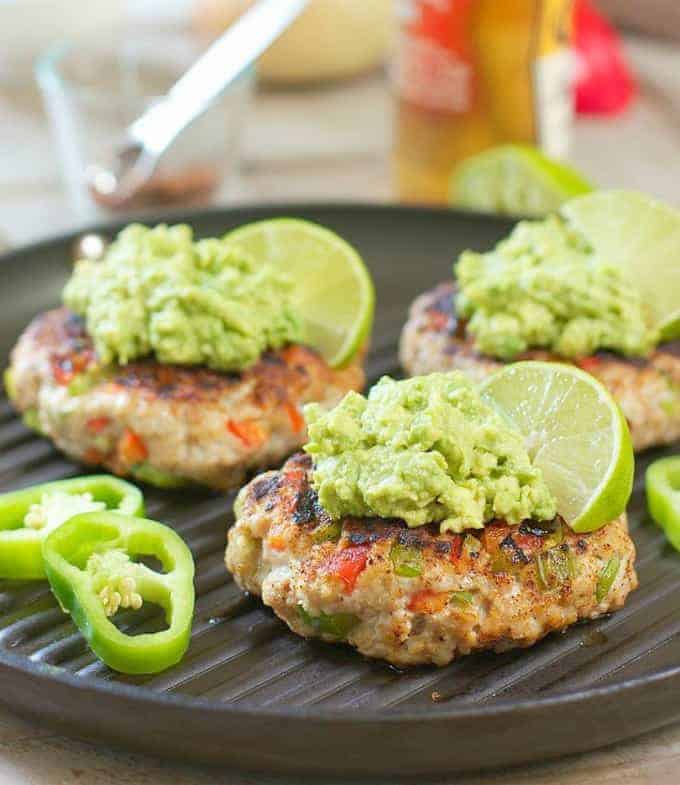 7. Sheet Pan Fajitas Ye Olde Staple of the Laughing Spatula! This was one of the first recipes to put us on the map, and though tons and tons of other bloggers have followed suit, we still think ours is the best 🙂 Peppers, onions, chicken and a homemade marinade keep this one paleo approved, and absolutely healthy and delicious.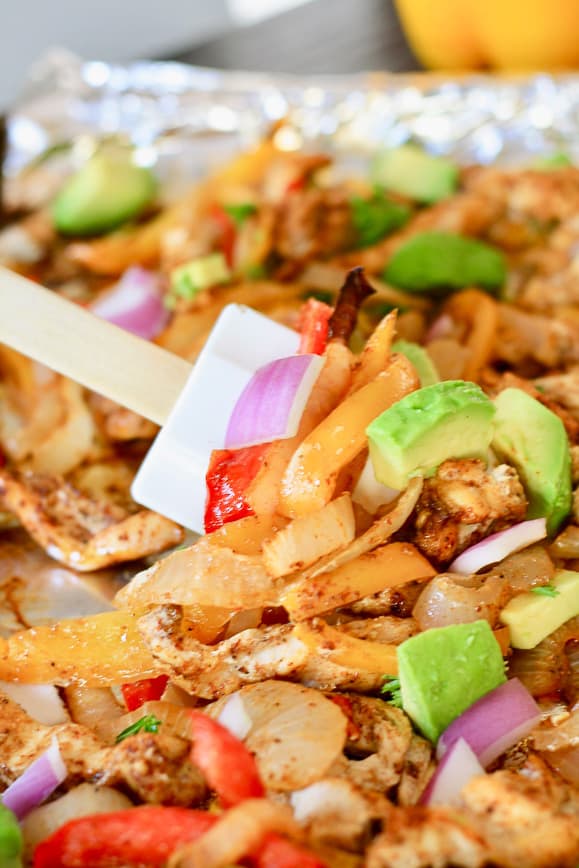 8. Easy Greek Salad Meal Prep Bowls with Roasted Chickpeas Not only are these meal prep bowls beautiful, they're simple, healthy and they pack a punch! Prep for dinner or for lunch, you'll enjoy how simple and delicious these are.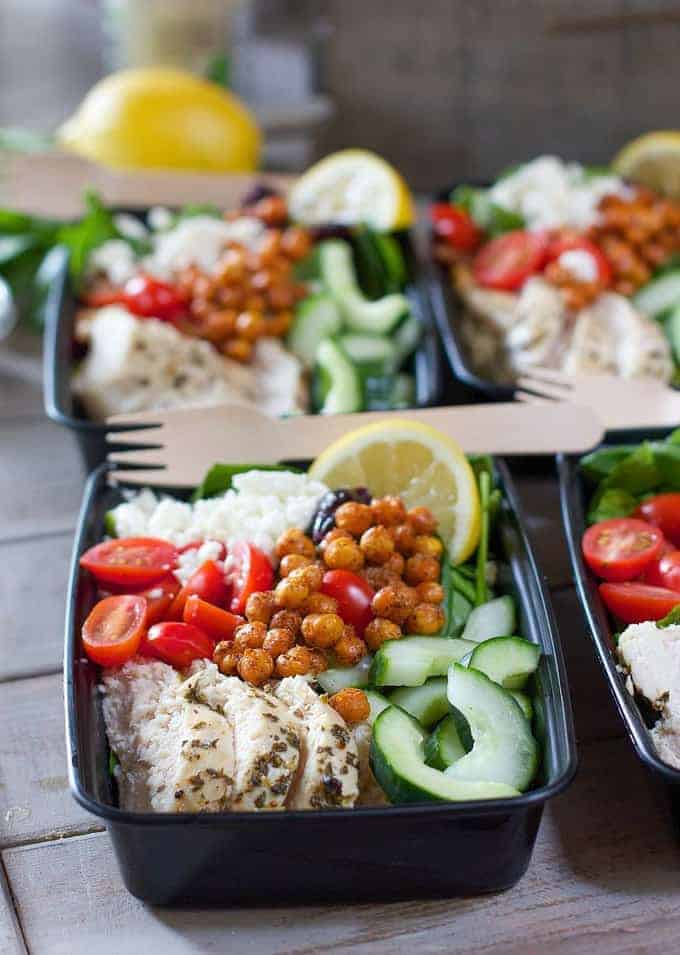 9. Cauliflower Rice with Mushrooms & Feta This dish is actually way healthier than it tastes, and that's a good thing! Absolutely flavorful and delicious, you'll save a ton of calories and carbs by eating this and not regular rice. Plus- the thyme and mushrooms really make this a restaurant quality dish.
10. Greek Baked Shrimp with Tomatoes & Feta We love 30 minute meals and this one is no exception! Full of flavor and tender shrimp, this mediterranean wonder comes together so fast and with so much flavor, your family will wonder what your secret is!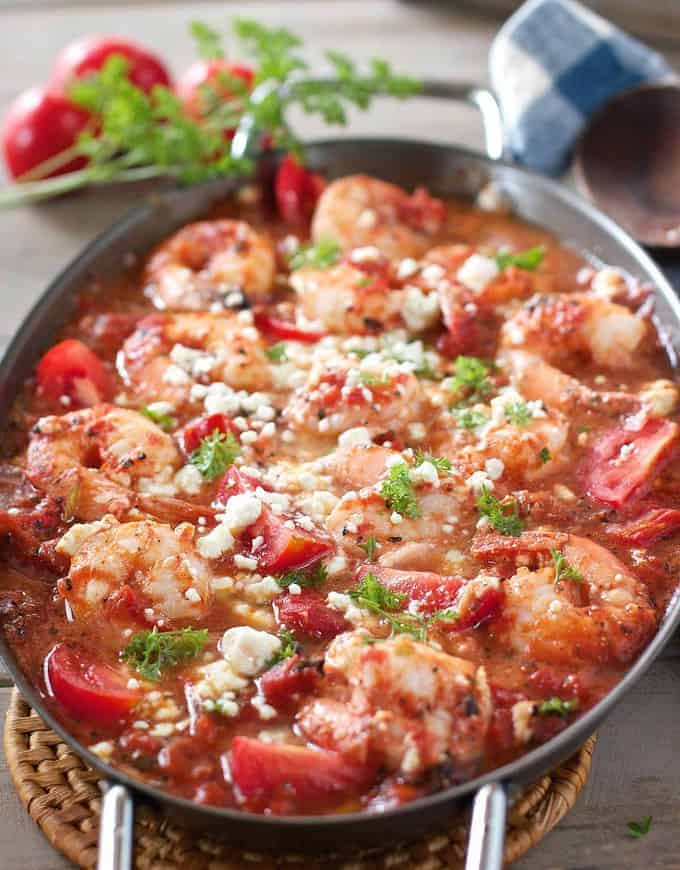 11. Tropical Salmon Burgers Treat yourself to these little treats; fresh chopped salmon combined with mango, red bell peppers, and a tropical salsa on top. These are perfect for stovetop grilling. Enjoy with a glass of iced tea and pretend it's summer time!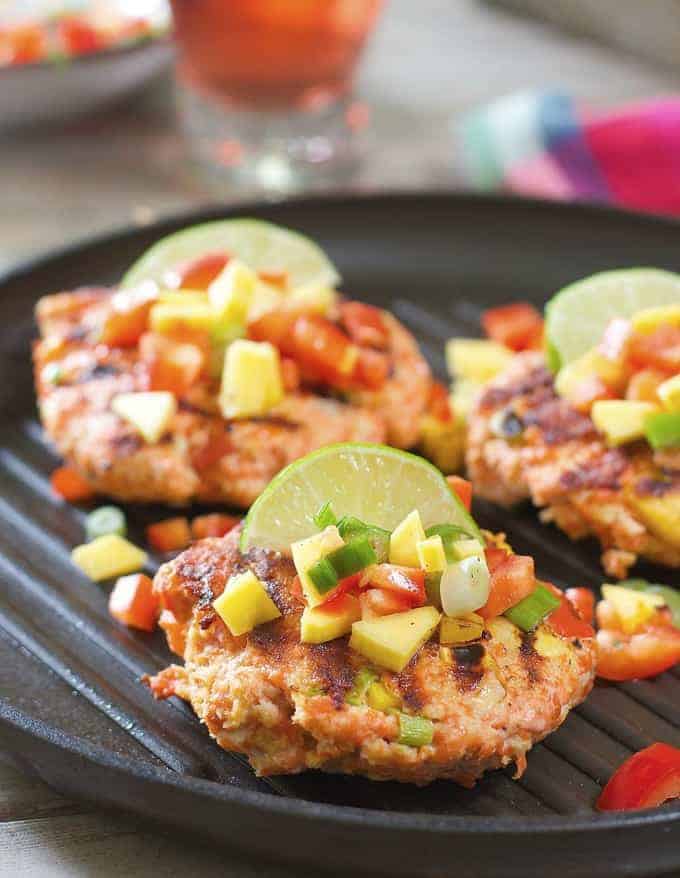 12. 30 Minute Chicken Puttanesca Delicious, simple, and Italian- what more could you ask for? Kalamata olives, fresh chopped basil, tomatoes, and chicken all come together in 30 minutes. This is one you DO NOT want to miss.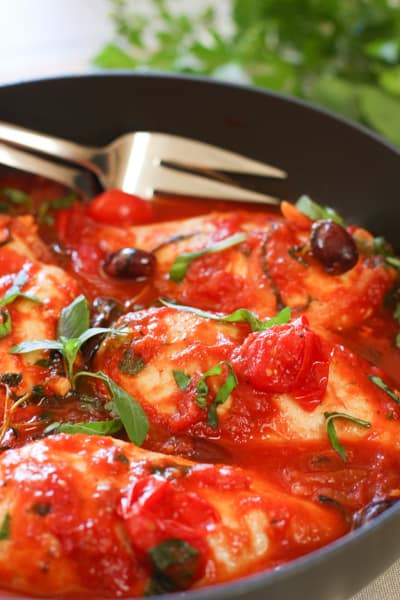 13. Crunchy Thai Chicken Salad with Peanut Dressing No words for how delicious this salad is, you won't want anything else! Homemade peanut dressing, combined with chicken (leftover chicken works great) atop a bed of crunchy veggies. Perfection!
14. 30 Minute Mediterranean Fish Skillet A nice vacation from your typical chicken dinner, this 30 minute meal is fresh, delicious, easy, and so, so flavorful. Sear your fish, add some veggies, dinner is done.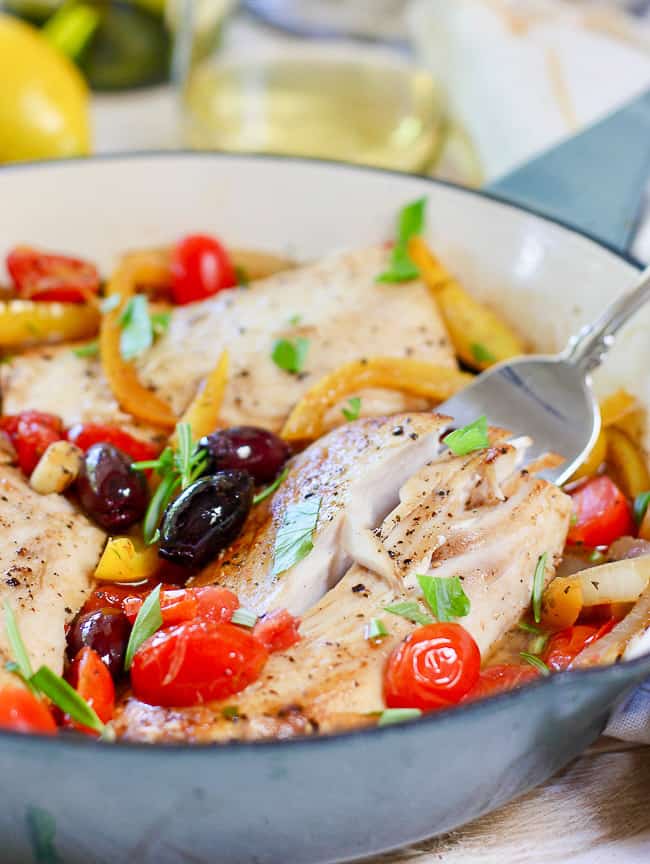 15. Caprese Spaghetti Squash Full of fiber, flavor, and rich Italian goodness, this spaghetti squash is not only vegetarian, but good for you, too! Half a spaghetti squash will easily feed 2 but if you're starving- go to town and devour a whole. Drizzle with balsamic reduction for some added yum.
Here's to a happy, healthy, and flavorful 2019! Happy New Year, friends! 
Clink- Kathi and Rachel