21 Fast and Fresh Whole30 Recipes! – You won't believe you are on a healthy eating plan while eating these fabulous dishes!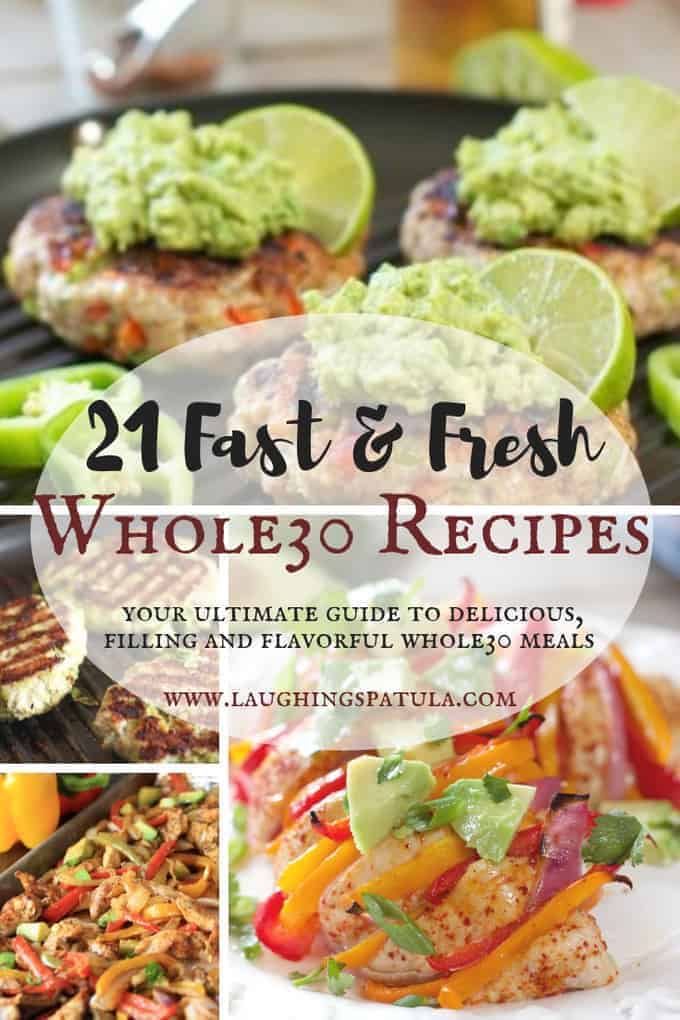 21  Whole30 Meal Recipes that are incredibly Fast and Fresh!
What is a Whole30?  Whole30 is a short-term nutritional reset, designed to help you put an end to unhealthy cravings and habits, restore a healthy metabolism, heal your digestive tract, and balance your immune system.  Sounds lovely doesn't it!  Who wouldn't want to look and feel better while you eat amazing food!  (hand raised and waiving in the air!).
I attempted my first Whole30 in January of 2014,  I made it 23 days before falling into a vat of champagne at a Seahawks Super Bowl Party.  Really, I think I blacked out or something.  I can hardly remember it….hiccup.    I've been waiting and waiting for a good time to attempt this again and isn't January national diet month or something?  If it isn't, it should be!
The Whole truth, pun intended, is, I struggle with my weight , and I have been on every diet available.  (My husband and my check book will confirm this.)    But this Whole30 thing speaks to me.  First of all, it's food I actually like.  Savory food, fresh veggies and fruit.  Second, it's whole foods that are feeding my body and making it smile.  And after the first week, I feel amazing!  (notice how I said 'after' the first week…chubby fingers making quotation marks.  First week wasn't much 'fun').    And finally the third reason, umm, lets see, …oh weight loss!…silly girl.  Yes, weight loss is a beautiful thing!
The toughest part of the plan, outside of the no wine thing,  is 'what do I eat on a Whole30?!"  I am here to help with a plethora of easy to prepare recipes you can have for Meal 1, 2 or 3.  So flavorful your family will never know what him 'em!  I have a few more on the blog and  you can view them all  here.  Also, the majority of my recipes make enough to feed a family of four with leftovers for your lunch box, which is a real win win when on the plan.
If this is your first Whole30, buy the book!  I can't stress that enough.  You can stumble through without the book, but it is a lot easier with it.  You can find it here: The Whole30: The 30-Day Guide to Total Health and Food Freedom
.  It's relatively inexpensive for what you get.  Hard bound, glossy beautiful pics for around 18 bucks, cheaper if you go E-book.  (I have both…throw some money at it and maybe it will stick right?).
.

UPDATE: There are new cookbooks out!  Penned by the founder of the Whole30 Program, Melissa Hartwig.  These books should make your Whole30 a whole bunch easier!
Whole30 Cookbook by Melissa Hartwig.
And if you want all the sciency stuff behind the diet, you can pick up a copy of the original Whole30 book It Starts With Food: Discover the Whole30 and Change Your Life in Unexpected Ways
.  I have that one too 🙂  But personally I found the newer book, The Whole30: The 30-Day Guide to Total Health and Food Freedom
 all I need and more.
Also,  checkout the Whole30 website and blog for an active community board.  Love that community board, it was a real life saver for me, well it was, until I hit the vat of champagne…ugh.
So here goes!  Clink!..oh wait, there is no clink in Whole 30.  Thud? (the sound of Chicken Avocado Burgers colliding!).
This post  may contain affiliate links, which means I might receive a very small commission, at no additional cost to you,  should you chose to purchase that linked item.  I only link to items I know and trust.  Thank you! 
21 of our favorite Whole30 Recipes
All are incredibly easy to make, fresh and fast! 
This incredibly flavorful marinara is a cinch to make and so much fresher than the bottled stuff!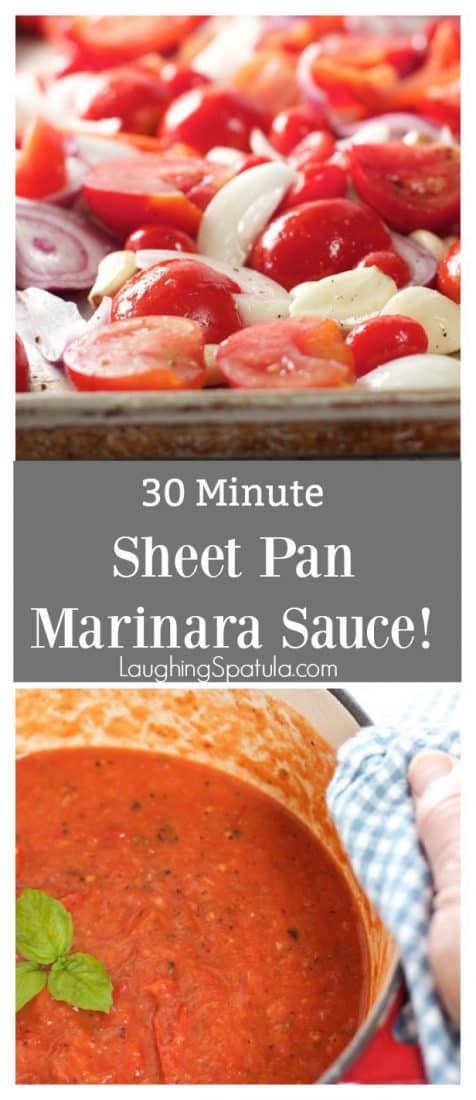 Best of luck to you on your Whole30!  Stay strong…it gets easier!
xoxoxo!
Kathi
Are you just starting your Whole30 journey? Have questions? Comment below! Don't forget to like us on Facebook, and connect with us on Instagram and tag your @Laughingspatula recipes with #laughingspatula, while you're at it…We love to see your pics!